SUPPORT


LUCID NATION MEDIA is a multi-media corporation engaged in the development of music, television, internet and film properties, typically from launch to placement with a major brand partner. Current projects include Mommie Dearest the Musical and Cohen on the Bridge, a documentary about the rescue at Entebbe.

Brain Floss Records - home of the band Lucid Nation
http://www.lucidnation.com
Henson's The Skrumps
Savethebees.tv
Thunder Road Inc.
My Artist's Place/Gonnabe.com
National Lampoon's Teed Off

---
WRONG ISLAND RECORDS is a New York based 100% DIY art/recording collective founded by Doc Island and Duffy Wrong Island in 2004. WRONG ISLAND promote, record & book a wide variety of D.I.Y./Punk activities in their communities while promoting free expression and grassroot innovation. Wrong Island strives to aid others with similar ideals, most recently the filmmaker's behind the amazing music documentary "THE GITS". Please visit wrongislandrecords.com or myspace.com/wrongisland for more information on the collective.
| | |
| --- | --- |
| Doc Island is a former music journalist who also currently works as a mental health therapist. | Duffy Wrong Island is the chief singer-songwriter of the Wrong Island recording artist GRRRL FRIEND (www.myspace.com/grrrlfriend). |
---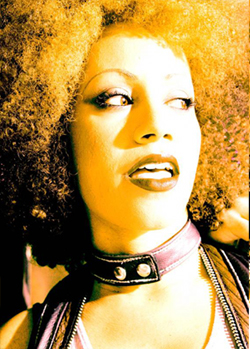 MilitiA. is most recognized for hosting shows and VJing on Much Music, FUSE, MTV2 and VH1- most notably, "HEAVY METAL MAKEOVER" on FUSE music television.

As a backup singer, MilitiA. has played with: TAYLOR DAYNE, NANCY SINATRA, CYNDI LAUPER, SANDRA BERNHARD and ANA GASTEYER (Saturday Night Live.)

MilitiA. is the lead singer and songwriter for NYC based, hard rock band, SWEAR ON YOUR LIFE. They released their first record, "BURN MY CROSSES" in Fall 2007. The record has been banned at two colleges (and counting...) and has made it as high as #2 on the hard rock and college radio charts in the U.S. and Canada. SOYL was recently featured on "TALKING METAL" radio, podcast and television show on FUSE. SWEAR ON YOUR LIFE performs in NYC and nationally- headlining events and festivals with the BLACK ROCK COALITION (at Brooklyn Academy of Music), the TAKE BACK NEW YORK benefit (for Tom Morello's non-for-profit Axis of Justice) and will be the premiere hard rock act at the BLACK WOMEN'S ARTS FESTIVAL in Philadelphia on August 3, 2008.

MilitiA. also performs with CX KIDTRONIK (Saul Williams) and has recently recorded with him. M. is the lead female vocalist in DEE SNIDER's (Twisted Sister) heavy metal orchestra, VAN HELSING'S CURSE, leading lady in the gothic horror musical, SINS OF A SCARECROW and also is a lead in the new all female rock opera, SUPER CHIX (Off Broadway.)

Off Broadway, MilitiA. has starred in Sandra Bernhard's EVERYTHING BAD AND BEAUTIFUL (Original Cast), CARDBOARD MOON (Original Cast) and ROCK SHOW. She also performed in the European Tour of JESUS CHRIST SUPERSTAR.

MilitiA. regularly hosts concerts and special events in NYC: including MILITIA.'s METAL MELTDOWN- a monthly metal party that she DJ's and hosts, ANARCHISTS OF COLOUR- a black rock tribute show featuring the best brown-skinned performers in NYC and FEMME FATALE- a concert featuring the toughest female fronted bands and beautifully dangerous female side show performers.

For more info + updates, go to:
www.militiaismyname.com + www.myspace.com/militiaismyname
---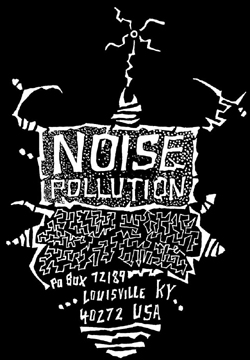 NOISE POLLUTION is an independent record label based out of Louisville, Kentucky. Established in 1997, Noise Pollution is committed to documenting bands and artists from the Louisville punk community.



louisvillenoise.com
myspace.com/noisepollutionrecords


TEETH
Noise Pollution Records

Minnow
Noise Pollution Records
---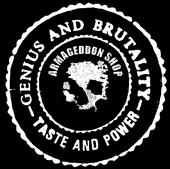 The idea to open ARMAGEDDON SHOP was conceived in spring of 1999 by Ben and Anne. Providence had no truly independent shop left dedicated to underground music, especially one focusing on vinyl. While working and saving money, we were also scouring flea markets, yard sales, and other shops for records, tapes, CD's, and anything else we thought would be good to have in the shop we wanted to do. A space was located and leased in September 2000, and work began. The space was cleaned, painted, and improved. All the fixtures were built by us, except the magazine racks which we acquired from a closed bookstore. Inventory was moved in in December. Cleaned, organized, priced, and stocked. Ben and Laura(Load Records), Lars, Damien, and the two of us spent many nights and more than a few beers and pots of coffee getting things together (Thanks you maniacs!). A pre-opening party on January 12th 2001 was a great time, friends from NY, NJ, MA, and RI coming down to hang out, eat, drink, and fight to the death for rare LP's. The doors opened the next day, the 13th of January 2001. We haven't looked back since. In July of 2005 Chris Andries stepped in as a new partner in the shop as Anne left to travel and move on in life. The shop has continued to grow, and we're hoping to keep it growing and improving as much as possible.

Our goal is to be the best record shop possible within our means, with our own touch. The idea was to create a shop that we as music hounds and record collectors would enjoy shopping in. We have a very serious focus on vinyl, be it LP, 10", 7", etc. We like records, we run a record shop... unlike other shops that have "Records" as part of their name and yet have none... We also stock CD's, cassettes, videos, magazines(both current and back issues), t-shirts, and a few books.

Local Community: We believe in being involved with the community here in Providence. Unlike other stores, we actively participate in the art, music, and local community to the greatest extent that our lives allow.

Armageddon Record Shop, Providence, Rhode Island
http://www.armageddonshop.com
http://www.myspace.com/armageddonshop
---